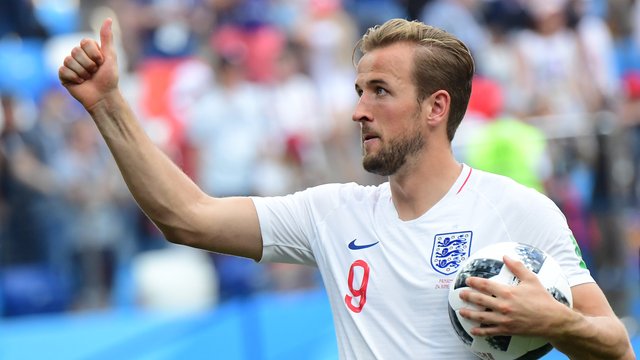 England has a wonderful crop of young attacking players establishing themselves this season, but there are doubts about the goalkeeping position, and the midfield looks pedestrian. We don't have a de Bruyne, but the right-back can cross like de Bruyne. We don't have a Pirlo.

Best of all, we do have Harry Kane. He is so good that you want him playing forward, in the defence, and the fulcrum in midfield. He can do everything, brilliantly.

So, how should the manager build his team, with so little time to prepare?

Strategy One: Harry Kane everywhere

Kane is so good at the number ten position (and no obvious alternative is available) so why not play him with a spearhead number nine like Calvert-Lewin? Imagine marking both of them in your penalty area for a corner! And both of them defending one. Harry could be given license to roam as the link man, join with the wingers and wing-backs, and run the team as the thinking-linking captain. It would be his team, and he would tell the others where he wanted them. He has vision. The problem is that the two centre-forwards might get in each other's way, and Harry might not like the idea; but, if he did like the freedom, it could be devastating.

Strategy Two: A very English midfield

Liverpool went to the Champions League Final by beating the artists of both Barcelona and Manchester City with a brilliant forward line and a very English midfield of Henderson, Oxlade-Chamberlain and Milner. No Fancy Dans. Just solid, hardworking, tough, uncompromising workhorses. Blokes that will not let you through. England now has a brilliant forward line, so perhaps all we need is solidity in midfield. Henderson, Declan Rice and Oxlade-Chamberlain or Milner (he's still doing the business). What do you think? Not much creativity there, but remember that the crosses, beautiful crosses, will be coming in from the wing-backs, and that Harry will be sliding in the visionary balls down the channel and the perfect one over the top for a runner.

Strategy Three: A blended midfield

I always liked the way Harry Redknapp blended a midfield. He had a Passer, a Tackler, a Dribbler and a Water-carrier. And the Passer was also a freekick expert. It's always useful to have a goal-scoring deadball specialist. On the other hand, when Harry's Portsmouth kept losing away from home he bought two Bullies and the losses stopped: Sulley Muntari and "The Wardrobe," the late lamented Papa Boupa Diop may he rest in peace, commanded the middle of the pitch, and nobody liked to contest it with them. The England manager has Henderson as Tackler, Phillips as Runner, and Maddison and Ward-Prowse as Passers available to him. Ward-Prowse is a deadball wizard. But will a blended midfield like that be sufficiently dominant?
Strategy Four: Run them ragged
We have an abundance of young keen talent. We should play all of Sterling, Rashford, Foden, Grealish, Sancho and Mount in attack. Bringing three new ones on, young fresh fast and hungry, early in the second half, will demoralise and destroy most tiring defences. Jimmy Case recalls Bob Paisley sending him onto the field in a European final with the instruction: "Just run around and create havoc." That's the spirit.
Defensive Strategy
John Stones is suddenly looking like the complete centre-half. What an extraordinary stroke of luck for England: we might actually have a very good defence. But we all know that an ordinary undistinguished team can be very hard to beat if they are hard-working, motivated, and all pulling together. As an international team of stars from different clubs it is not necessarily easy to create that club team spirit. Step forward, once again, Harry Kane. The captain can give the lead, and can inspire the sense of solidarity. Harry looks as though he has the qualities to do that. Let us pray that they all buy into the dream of being a they-shall-not-pass "Harry's Team."